DARK SKIES RUN @ KIELDER 10
A 10 mile night run starting and finishing at Hawkhirst and running an anti clockwise loop of the infamous Bull Crag. Race will take place on Friday .
Kielder was awarded gold tier Dark Sky Park status by the International Dark Skies association in December 2013, making it the perfect venue for the ultimate starlit running challenge.
Entry includes:-
Bespoke Medal
Chip Timing by TOTS
Instant Online results by TOTS
Feed stations – water and sweets, more substantial snacks and drinks on longer events
Fully marked and marshalled route
Medical Cover
Free event parking
First male and female, first in age category. Level up for free!
Bespoke memento for all runners
Digital photography of event and entrants
Chance to purchase bespoke event t-shirt
Cut Offs
The race must be completed within 3 hours.
Route and Course Markings
The course will be marked and flagged and marshals will be on hand at key points in the race. Please remember that navigating the course is your responsibility.
First Aid
The race checkpoint has first aid equipment for minor injuries. The start/finish area will also have first aid provision inculding a paramedic and an ambulance. Nearest local hospital:- Hexham General Hospital, Corbridge Road, Hexham NE46 1QJ. 0344 811 8111
Awards
All finishers get a bespoke medal and a race memento. Free parking for the event and free digital photography. A race t-shirt is also available as an addditional purchase.
There are also male and female prizes for the categories shown below.
| Senior | 40-49 | 50-59 | 60-69 | 70 plus |
| --- | --- | --- | --- | --- |
| First Three | First finisher | First finisher | First finisher | First finisher |
Race Registration
Hawkhirst Scout Activity Centre,
Kielder Water,
Hexham,
Northumberland,
NE48 1QZ
Map for Hawkhirst
Unless staying at Hawkhirst you will be directed to an offsite car park and coached to Hawkhirst.
Dark Skies Run @ Kielder 10 -
15:30 - 17:30

Hawkhirst

Opens for race registration, pick up race numbers and race merchandise.

18:20

Start/Finish Area

Race safety briefing

18:30

Start/Finish Area

Race start!

20:00

Hawkhirst Activity Hall

Awards Presentation

21:30

Finish Area

Race cut off
Dark Skies Run @ Kielder 10 - Mandatory Kit
Whistle
Head/chest/waist torch
Survival bag for 26.6/Foil Blanket for other races
Hat and gloves
Quality Waterproof jacket
Minimum of 500ml water
Personal cup
Emergency food/sport bar
Fully charged phone
Dark Skies Run @ Kielder 10 - Rules
All competitors must be running under their own names and numbers. No swapping of numbers or running in another's place will be accepted. If you are found to be running in another's place you will be disqualified.
You must log your number with race marshals at each check point. It is your responsibility to make sure the marshal takes your number.
Any competitor who is deemed unfit to continue by the race directors, marshals or medics will be withdrawn from race. The decision will be FINAL.
Runners must carry all mandatory equipment at all times during the race unless stated otherwise at Race Briefing by the Race Director. If found to be not carrying the required kit at any time, you will be disqualified.
If you decide to retire from the race you must notify a marshal. You must surrender your race number and you will not be allowed to continue.
Unsporting behaviour (cheating) will not be tolerated and result in immediate disqualification. This includes but not limited to, not carrying mandatory kit at all times, taking short cuts, use of PEDs.
We strongly advise against the using of NSAIDs (Non-Steroidal Anti-Inflammatory Drugs i.e Ibuprofen) during the events, as they are proven to cause harm during endurance events. Doing so against this advice is strictly at the competitor's risk.
All runners take full responsibility for their own navigation during the event.
You must have your bib number visible at all times or easily accessible to show the Check Point team.
If you do not leave an aid station before the cut off time you will not be allowed to continue for safety, cut-off times will be strictly enforced. If you get to the finish line after the final cut off you will unfortunately not be listed as an official finisher and will not be eligible for awards.
Littering will result in immediate disqualification. We must respect the trails at all times. Some of our events take place in SSSI (Sites of Special Scientific Interest), and securing permission to host events in these areas is very difficult. If you litter you not only jeopardise the events future, but more importantly you jeopardise the area.
Dogs are NOT allowed to take part in the event. They present a trip hazard to other runners and a risk of upsetting livestock of local land owners.
Dogs are not allowed beyond the safety barrier and main entrance to the camp at Hawkhirst.
You do not have a right of way priority over any other users of the course, you must respect other users of the course throughout the duration of the event.
Earphones/headphones may be used, but MUST be taken off head or out of ears completely at certain points.

When you're approaching a road crossing
When you're approaching a checkpoint
If you see a marshal in hi-viz anywhere along the race route
On any section of trail narrow enough that you're running single file
Speakers are not allowed
If you forget about your earphones, and a marshal signals you to remove them, you must do so immediately. If you try to argue the point about your music being turned off, your earphones may be confiscated from you until the race finish, and you also risk being removed from the race for your own safety, i.e. disqualified.

The race has an ARC permit number and will be held under ARC rules. We recommend that you make yourself familiar with ARC rules specific to Trail running: http://www.runningclubs.org.uk/rules
Dark Skies Run @ Kielder 10 - Travel
Accommdation Options at Kielder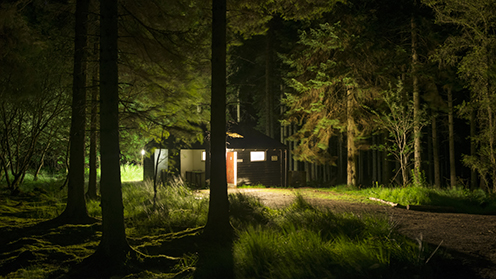 We have managed to secure the Hawkhirst Scout Camp as our event venue and Hawkhirst have also confirmed that we can use their on site accommodation and the Scout Camp will also provide food options.
For those staying over it was a party atmosphere. It really does offer peace of mind that after the event you can just wander the few yards to the lodges and hit the hay without the late night drive home.
If you choose the camping option, you will be able to use the on site shower and toilet facilities with this option also. And what could finish off your event better than a full night under the stars in the surrounding forest within the Hawkhirst boundaries.
Other accommodation options for the Kielder area can be found via this link.
Race Lifts
This year we are using a car sharing website developed by a runner that aims to save you money, and reduce the carbon footprint of the event:
http://RaceLifts.org car sharing
We would be most grateful if EVERYONE coming to the Dark Skies Run race could try out the site (even if you don't expect to car share). It only takes a minute and is completely free to use. As well as saving you petrol money, it will ease the parking headaches for us at the race.
| Male | Category | Year | Time |
| --- | --- | --- | --- |
| M | Lewis Timmins | 2019 | 01:09:10 |
| M40 | Ian Young | 2019 | 01:13:51 |
| M50 | Paul Samat | 2019 | 01:23:48 |
| M60 | Michael Bird | 2019 | 01:34:46 |
| Female | Category | Year | Time |
| --- | --- | --- | --- |
| F | Gemma Frost | 2019 | 01:17:05 |
| F40 | Nicola Shaverin | 2019 | 01:38:49 |
| F50 | Michelle Douglas | 2019 | 01:30:41 |
| F60 | Christine Adams | 2019 | 02:13:54 |